 The smart courier software solution for your courier & delivery service.
Clear order information for your couriers. Automate your dispatching with our intelligent courier & delivery software. Perfect for all courier types.
Our Transport Software automate your dispatch operation for more business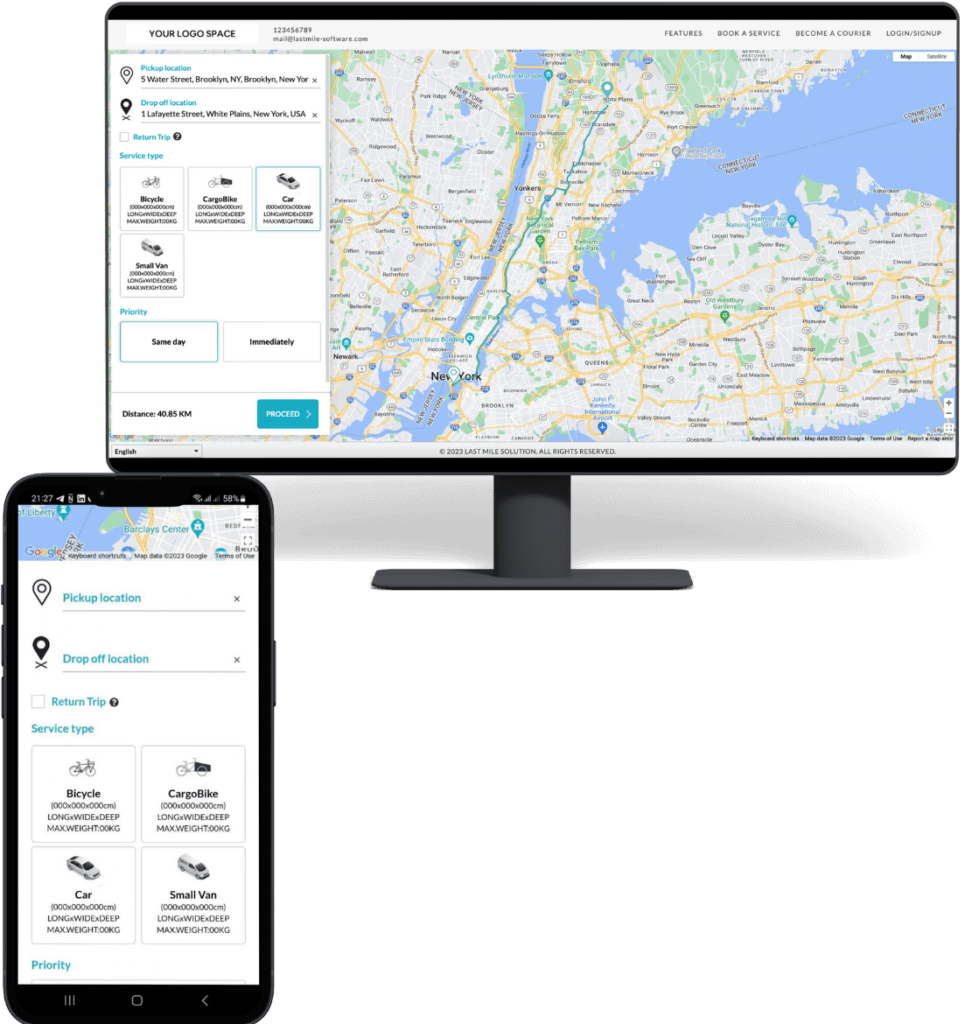 ---
In advance:
Video about the software:
---
Video about the
functions of the courier driver app:
---
Interactive control panel
Your customers place the order …
Your customers enter the courier order on your website, not telephone operators. Dispatching is automated
-> Demo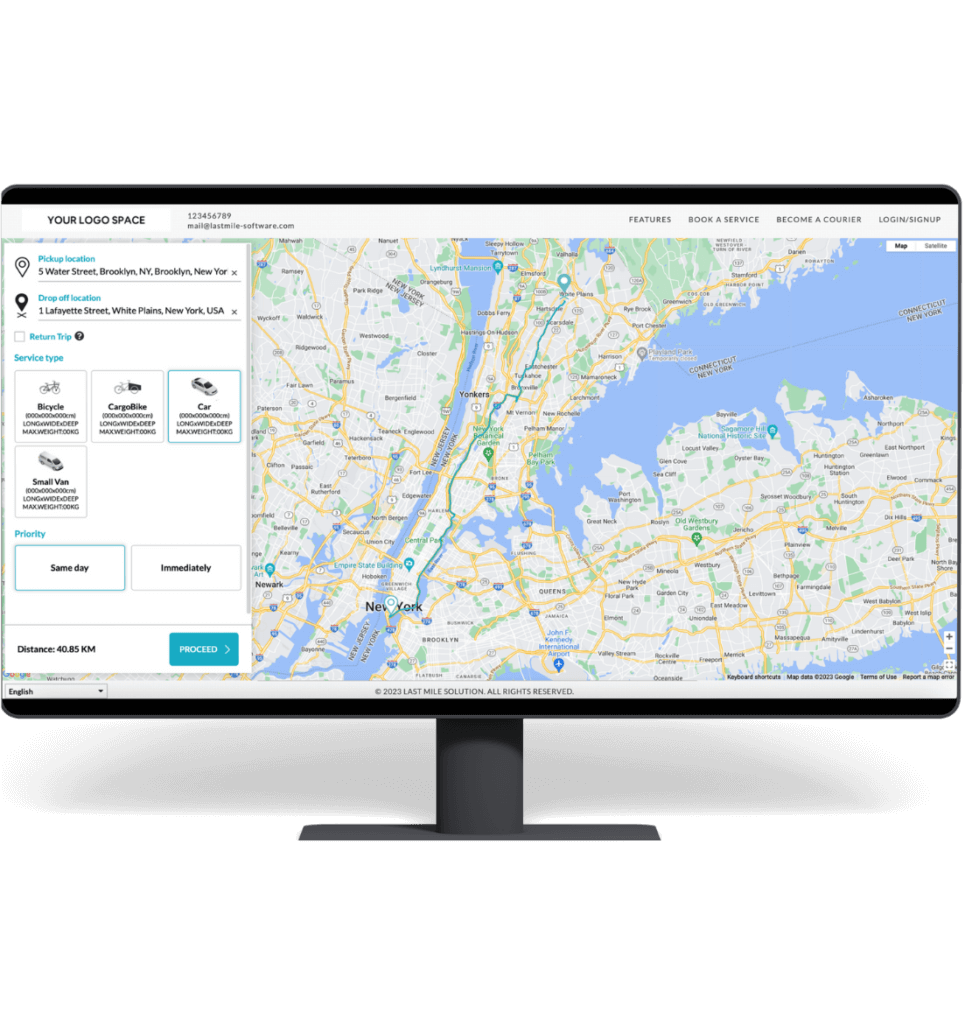 Interactive control panel
Always everything in view
With the Dispatch Control Center, you as an admin get complete transparency over the entire courier fleet and full control over all orders. Can assign jobs to individual couriers automatically or manually. A range of tools and automations to help you streamline your operation.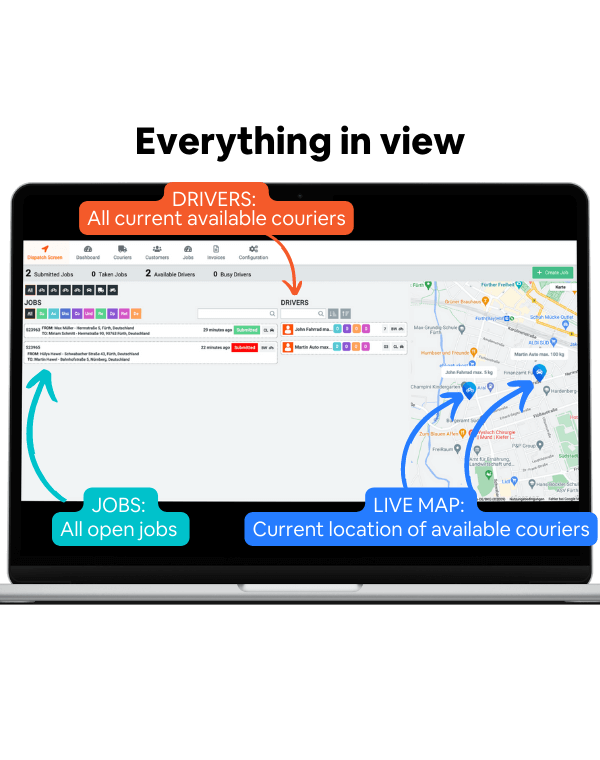 Courier App
Clear order information for your couriers
Your couriers receive clear instructions via the app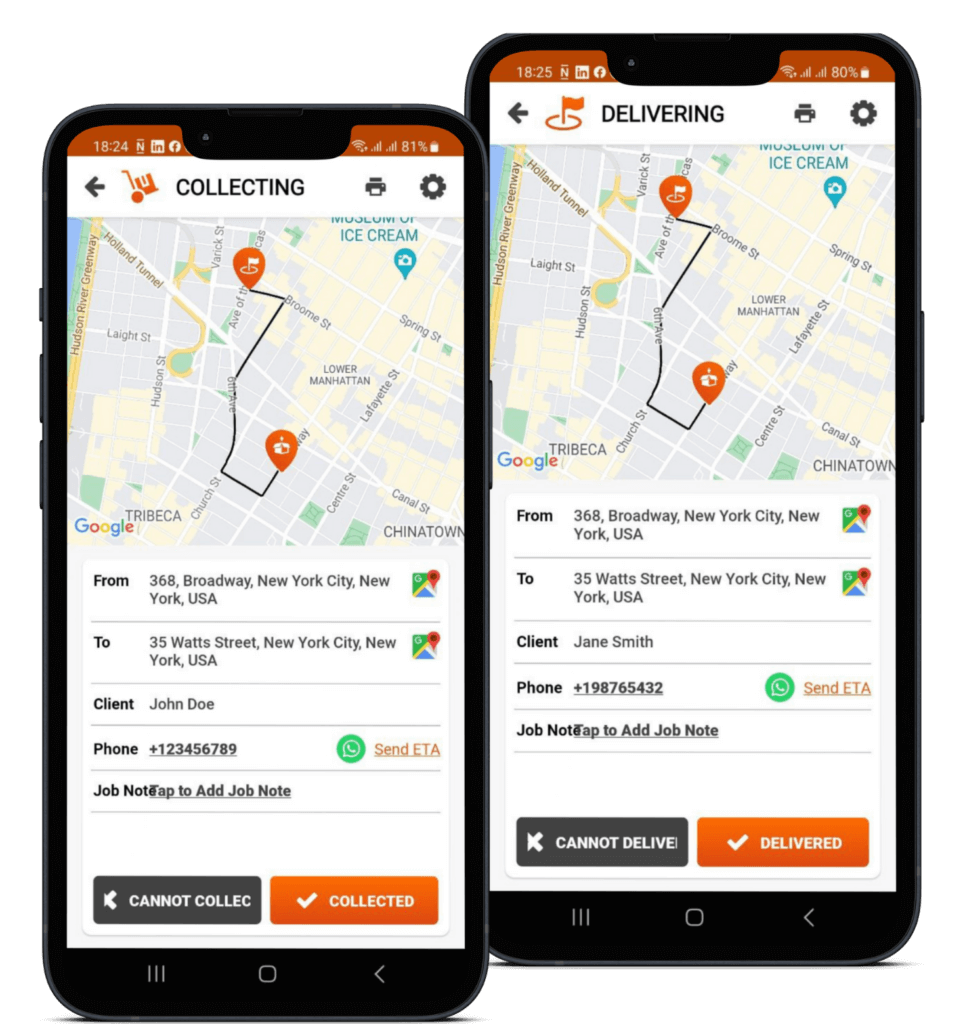 Navi
Automatic navigation
Automatic navigation for courier with the help of our partner: Google Maps
Courier informs about the time of arrival
Arrival time message
The courier receives clear information about distance and travel time and can thus inform the customer of his arrival time. The customer then receives this information via SMS or email.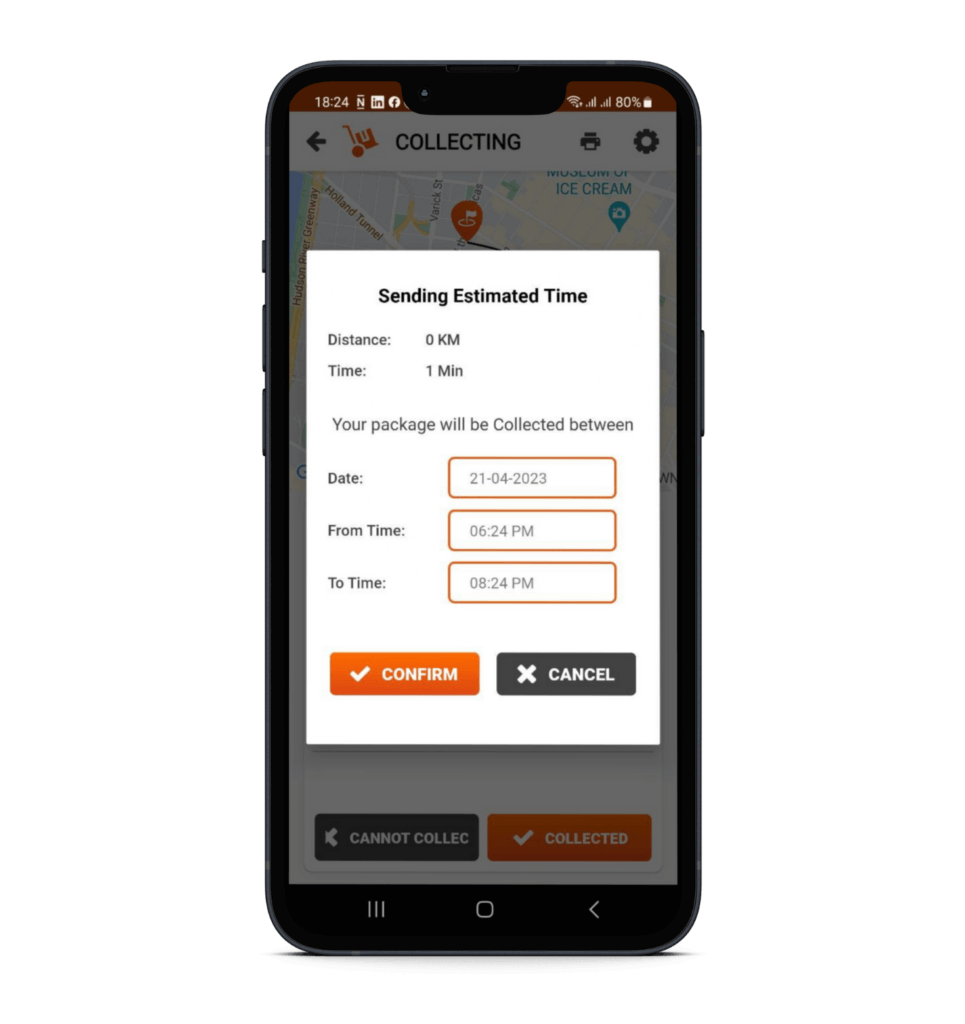 Acknowledgement of receipt
Proof of delivery
Legally compliant deliveries are possible with this system. Proof of delivery, which must be issued by you or your courier and signed by the recipient of the goods upon delivery as proof of transport. Directly on the courier's cell phone. Subsequently, the customer receives an SMS / email about the successful delivery.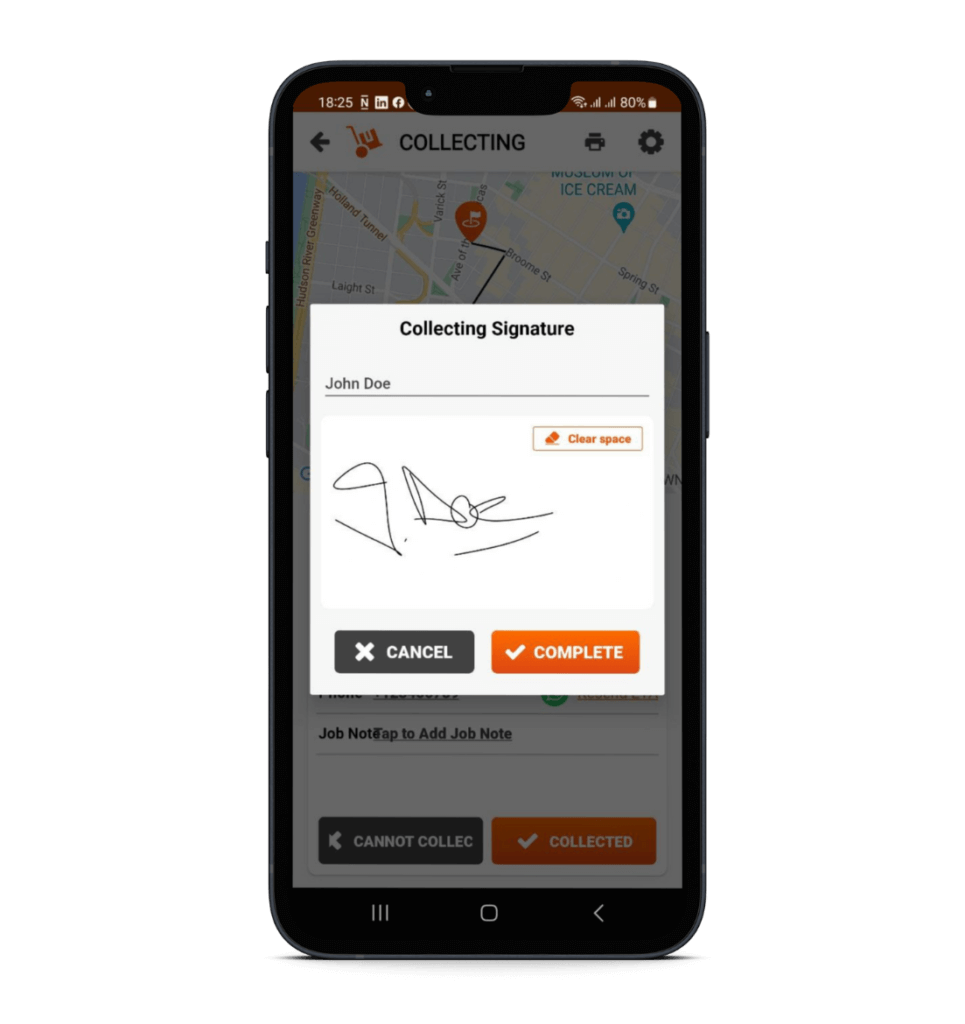 Mobile Courier APPs
Your couriers will use our mobile APPs to process orders, optimize their route, track revenue and more.
Live-Tracking
Your customers can track their packages online. The system sends your customers links as part of their confirmation emails. They can even track the live location of their package
Flexible pricing
We provide you with tools to flexibly price your delivery orders. Based on distance, based on map zones or agreed prices between specific addresses.
Automatic dispatch
We offer a tool called "Routes" that allows you to automate your shipping. Jobs are automatically assigned to available drivers based on the location of your jobs' pickup or drop-off points.
SMS / WhatsApp / Email updates
Our system keeps everyone informed through various communication channels, while you have control over all templates.
E-commerce integrations
We are currently expanding our range of e-commerce API integrations so that you can automatically accept jobs directly from any number of online stores.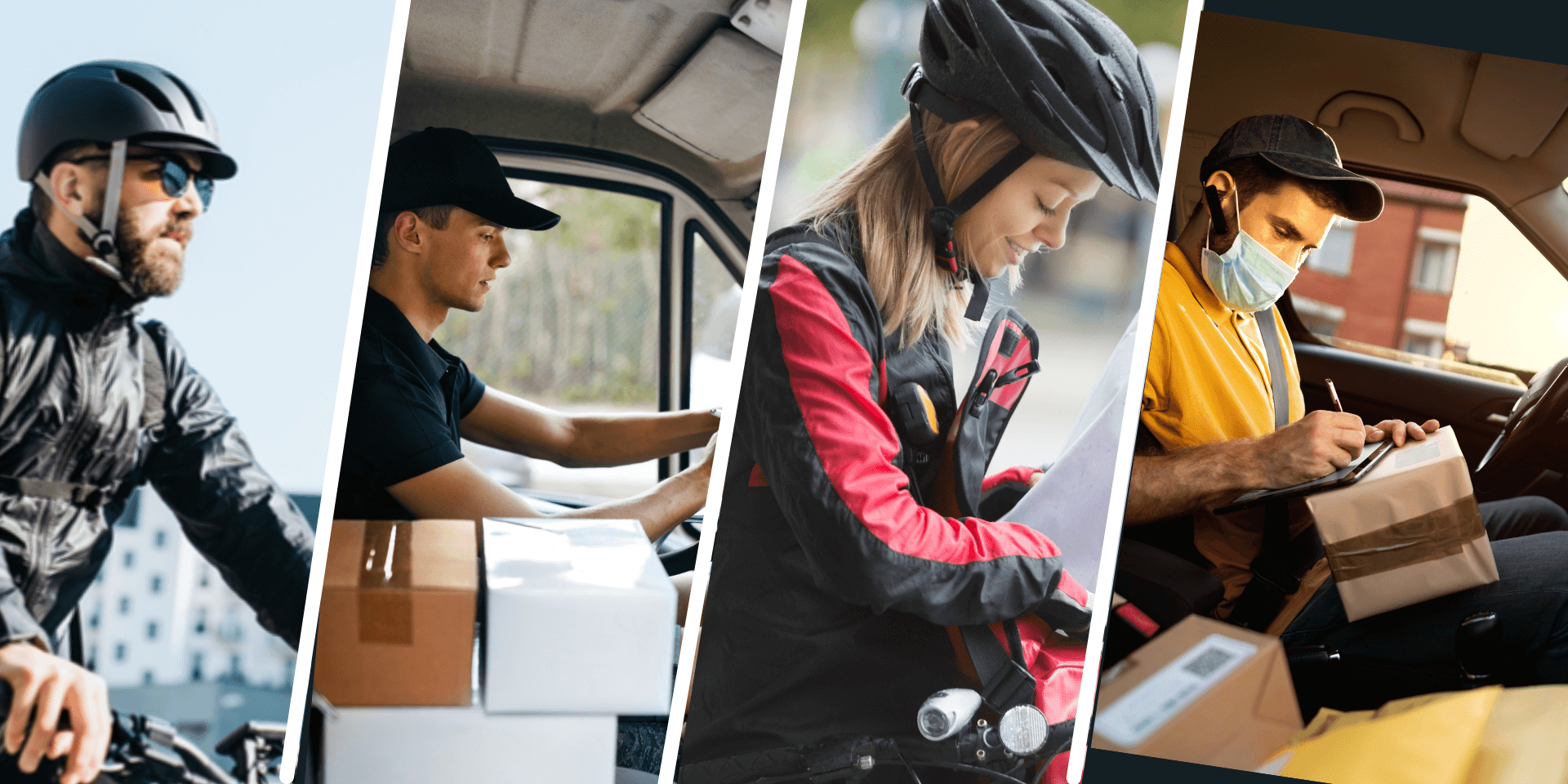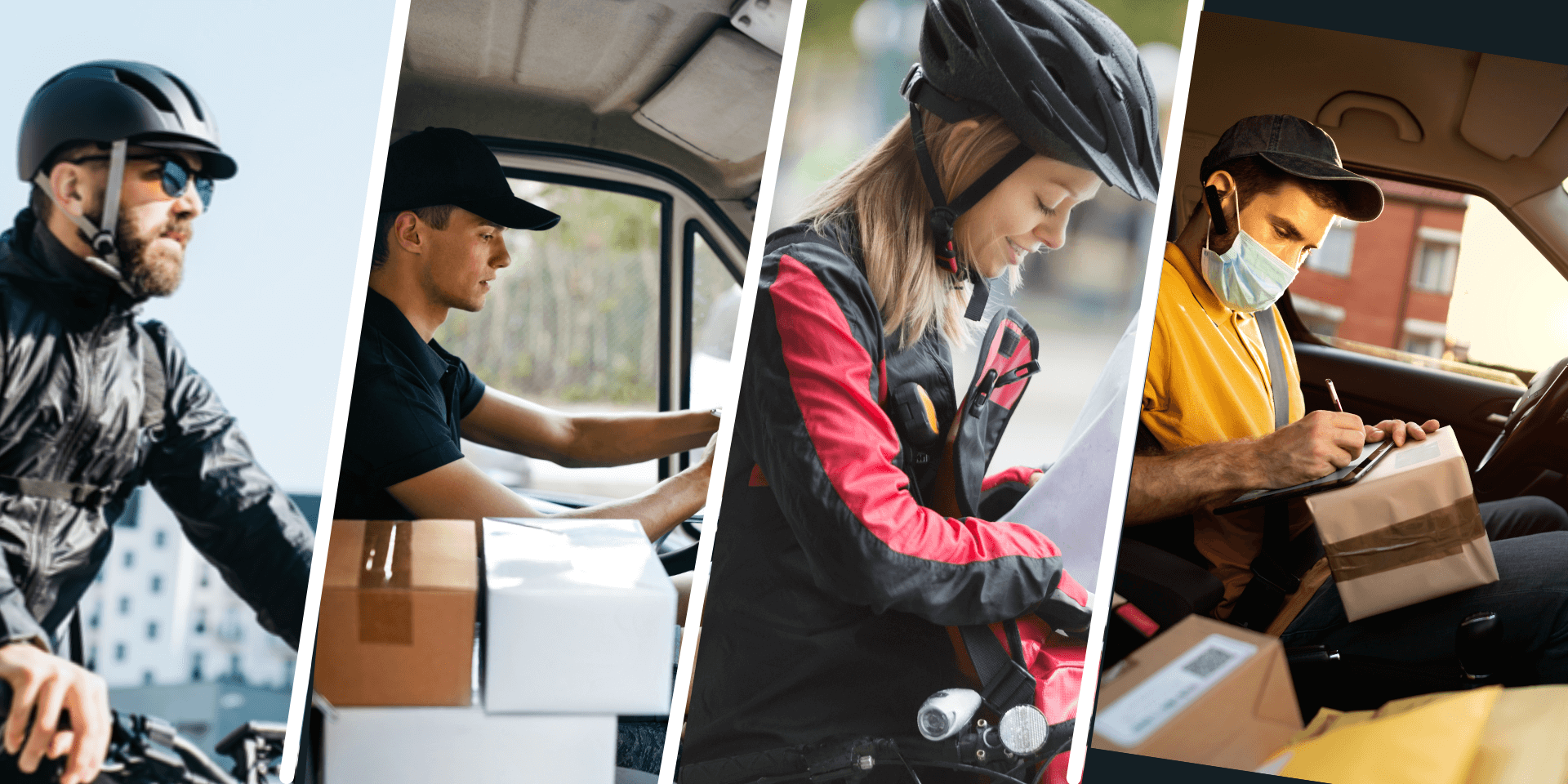 The all-in-one courier software & app for your business
---
Last Mile Software
As an eCommerce business owner or operator, or a delivery service provider, your priority is to ensure timely and error-free product delivery to customers. To achieve this, it is crucial to have complete transparency and control over your courier fleet and orders. That is why investing in a smart and comprehensive delivery software solution, such as last mile delivery software, is essential for your delivery service.
Last mile logistics and delivery software can enable you to efficiently manage and streamline multiple deliveries from any warehouse to your customer's front door. It provides features such as route optimization, advanced dispatching, customer alerts, proof of delivery, and delivery analytics.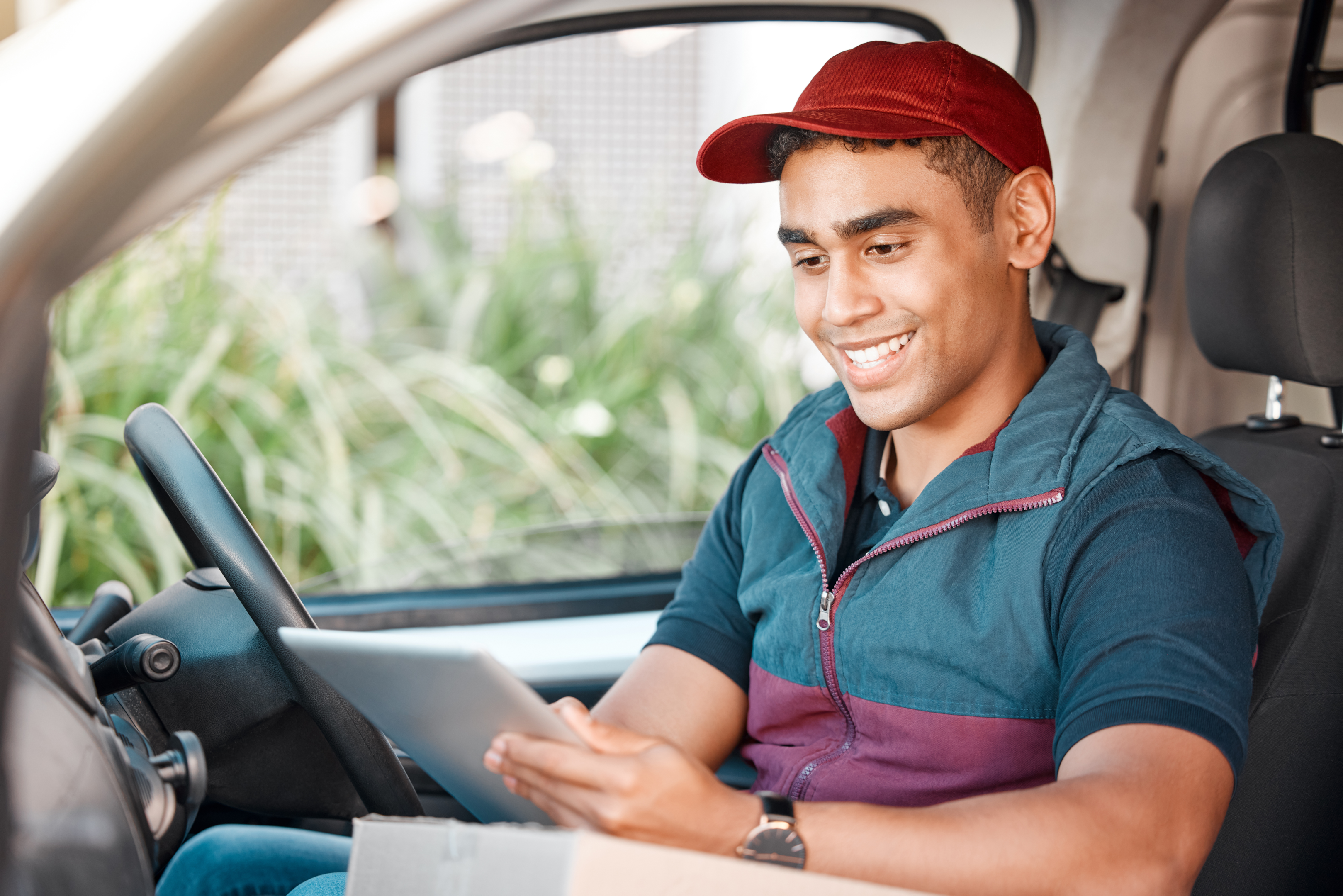 With last mile delivery software, you can improve your delivery business's efficiency, reduce operational costs, and increase customer satisfaction. This article will explain what last mile delivery management software is, how it works, and the benefits of using it for your eCommerce business.
What Is Last Mile Delivery Software?
Last mile delivery software is a customizable platform with features and tools to help you manage the final and most crucial stage of your delivery process: getting your products from your warehouse, store, or distribution center to your customer's doorsteps.
Last mile delivery software helps you do this by providing features such as:
Route optimization: This feature helps you plan the best and fastest routes for your drivers based on traffic, distance, and other factors. It also allows you to adjust the routes in real-time if there are any changes or delays.

Advanced dispatching: As an operator of last mile software, you can assign and schedule your drivers and vehicles based on their availability, capacity, and location. It also enables you to communicate with your drivers and track their progress and status.

Customer alerts: You have a real-time alert feature that helps you keep your customers informed by sending them notifications and updates about their delivery status, estimated arrival time, and driver details. It also allows them to provide feedback and ratings after the delivery is completed.

Proof of delivery: Verify and document that your deliveries are done correctly and on time by capturing signatures, photos, barcodes, or other forms of confirmation from your customers or recipients. You can also store and access these records for future reference or dispute resolution.

Delivery analytics: This feature helps you analyze and improve your delivery performance and operations. You can generate reports and dashboards that show key metrics such as delivery time, distance, cost, on-time rate, customer satisfaction, driver productivity, and more. You can also identify trends, patterns, and areas of improvement to optimize your delivery strategy.
Moreover, last mile delivery software can be customized to suit different types of final mile delivery businesses.
These businesses include:
Courier services: If you need to deliver parcels, documents, or other items from one location to another, last mile delivery software can help you optimize your routes, manage your drivers, track your deliveries, and provide proof of delivery.

Grocery delivery services: For businesses that need to deliver fresh or packaged food items from grocery stores or warehouses to customers' homes, last mile delivery software can help you plan your routes, schedule your drivers, communicate with your customers, and collect feedback.

Pharmacy delivery services: For pharmacies that need to deliver prescription drugs or other medical supplies from pharmacies or clinics to patients' homes, last mile delivery software can help you comply with regulations, verify your deliveries, alert your customers, and monitor your performance.

Food delivery services: If you need to deliver cooked meals or snacks from restaurants or kitchens to customers' homes, last mile delivery software can help you coordinate your orders, dispatch your drivers, update your customers, and ensure quality.
The System
Last mile delivery software operates on a comprehensive 3-in-1 solution that addresses the key players in the delivery process: the operators, customers, and drivers. With last mile delivery software, you will get a customized and expandable technology solution that seamlessly connects these three components of your business to ensure a smooth and efficient delivery experience.
This comprehensive delivery software consists of the following components:
Admin Dispatcher Dashboard: The heart of the system lies in the admin dispatcher dashboard. You as the operator have full control over your couriers and orders. You can effortlessly manage and assign tasks, track progress, and optimize delivery routes. This centralized hub provides you with real-time insights, enabling you to make informed decisions for maximum efficiency.

Customer Dashboard: The customer dashboard empowers your customers by allowing them to set, view, and manage their orders effortlessly. Your customers can choose a preferred delivery window, track the order in real-time, receive notifications and alerts, provide feedback and ratings, and access proof of delivery.

Driver App: Couriers rely on the driver's last mile delivery app to receive and process clear order information. Through this intuitive application, your delivery drivers have access to the optimal route and navigation to the collection and delivery address, communicate with you and your customer and notify the arrival time. The driver's app can also capture proof of delivery (such as signature, photo, or barcode), and complete the delivery documentation.
These three components are connected and synchronized through cloud-based technology to enable real-time updates and synchronization across the last mile delivery platform. Additionally, a dedicated customer support system is in place to address any queries or concerns promptly.
Some of the features that make last mile delivery software possible and effective are:
Full customer dashboard
Customers have full control and visibility over their orders. They can place orders online, select a convenient delivery time slot, track their orders live on a map, communicate with the courier or the operator, receive proof of delivery, and share their feedback and ratings.
Automatic dispatch
Last mile software has a function for operators to automate the process of assigning orders to couriers based on various factors such as availability, location, capacity, skills, and preferences. This reduces manual errors and delays, improves courier productivity and utilization, delivery costs, and ensures faster and smoother deliveries.
Automatic proof of delivery
This feature allows couriers to verify that the deliveries are completed successfully and securely. They can capture signatures, photos, barcodes, or other forms of proof for customers using mobile devices. These proofs are stored and accessible in the cloud for future reference or dispute resolution.
Online live tracking
Real-time tracking enables customers to monitor their deliveries. They can see the estimated arrival time, the courier's current position on a map, and any updates or changes in the delivery process. The features provide them with a sense of control and assurance.
Last Mile Software also provides a free demo access for one month for testing the software. You can sign up for the demo account and experience the features of this software for yourself free of charge.
The free demo account will give you an opportunity to witness the Last Mile Software transformative impact on your last mile delivery operations.
More Than Software
Last mile delivery software is growing its eCommerce integrations to boost efficiency in last mile delivery operations. You can connect it to different online stores, accepting and processing orders automatically from various sources. This eliminates the hassle of switching systems or manually entering data, streamlining your order management and last mile operations. It's a game changer for eCommerce and delivery businesses, making your life easier.
Benefits of Last Mile
Last mile delivery software can help you improve your business in many ways. It can help you save time, money, and resources while delivering a great customer experience.
Here are some of the benefits of using last mile delivery management software:
Enhanced Delivery Efficiency
By leveraging advanced features like route optimization, real-time tracking, and automated dispatch, last mile delivery software significantly improves delivery efficiency. It minimizes delivery time, reduces fuel consumption, and optimizes resource allocation. With streamlined operations, you can handle more orders while maintaining high service standards.
Seamless Customer Experience
The software's customer-centric approach ensures a seamless experience from order placement to delivery. Through customer dashboards and real-time notifications, you provide transparency, allowing customers to track their deliveries and stay informed. This boosts customer satisfaction, encourages repeat business, and enhances your brand reputation.
Increased Operational Control
Last mile delivery software empowers you with complete control over your courier fleet and all orders. The admin dispatcher dashboard provides a centralized platform to manage and track your couriers and deliveries efficiently. With full visibility, you can proactively address any issues, ensure timely deliveries, and maintain a smooth workflow.
Customizable for Different Business Types
Whether you operate a courier service, grocery delivery, pharmacy delivery, or food delivery, last mile delivery software is adaptable to your specific business needs. Its flexible nature allows you to customize workflows, integrate with various platforms, and cater to the unique requirements of your industry. It seamlessly scales alongside your business growth.
Data-Driven Insights
The software's analytics capabilities provide valuable data insights that enable data-driven decision-making. You can analyze delivery patterns, identify bottlenecks, and optimize routes based on historical data. These insights help you make informed choices, improve operational efficiency, and reduce operational costs.
eCommerce Integration Advantage
Last mile delivery software's integration with multiple eCommerce platforms and online stores offers a significant advantage. It allows for the automatic acceptance and processing of orders from various sources, eliminating manual data entry, and reducing errors. This seamless integration streamlines order management, saves time, and enhances overall operational efficiency.
Boosts Scalability and Productivity
This Transport Software increases productivity by reducing unnecessary idling or unplanned detours. It also provides efficient routes for drivers to complete deliveries faster. This helps you increase the number of deliveries per day and scale your business without hiring more drivers or vehicles.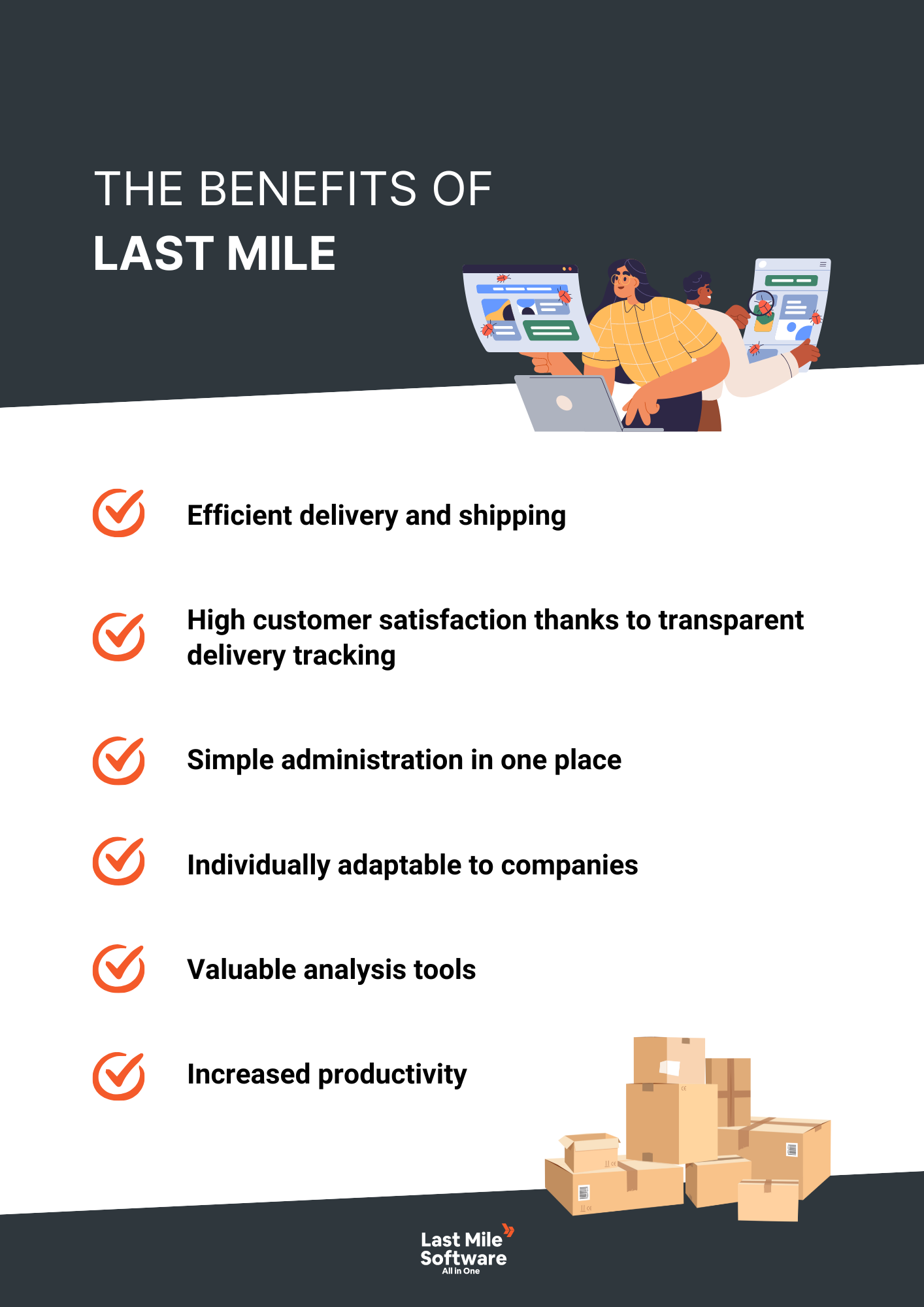 Conclusion
Last mile delivery software is the ultimate solution for eCommerce owners and operators seeking to optimize their last mile delivery operations everywhere and meet customer expectations. With its advanced features, seamless integrations, and customer-centric approach, it enhances delivery efficiency, improves customer experience, and provides control and insights for business growth.
Embrace the power of last mile delivery software and unlock the full potential of your business.
Contact
Try our Courier Software